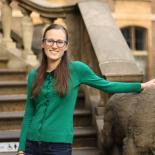 Claire Peacock defended her DPhil (PhD) in International Relations at the University of Oxford in May 2018. Claire's research focuses on understanding the rationales behind and the design and outcomes associated with international cooperation, ranging from regulatory cooperation to treaty making. Her dissertation research explored why states include labour and human rights regulation in international trade agreements. Claire's postdoctoral research looks at the design and consequences of withdrawal provisions in international environmental agreements. She is also working on a project that maps and assesses the structure of offshore networks.
Claire is also interested in the application of data science methods to international relations data and works in R and Python. She enjoys teaching IR students the fundamentals of working with data and about evidence-based decisionmaking and research.
Research interest
International political economy, international regulation, environmental cooperation, human rights, labour rights, international trade, statistical network analysis, quantitative methods, data wrangling.