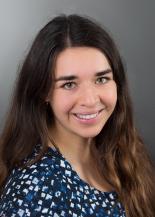 Marieluna Frank is a PhD candidate at Zeppelin University in Friedrichshafen, Germany. She has been working as an academic assistant at the Chair of Global Governance at Zeppelin University in Friedrichshafen since April 2021 and has also been the coordinator of the research cluster "Global Networks" since March 2022. Before joining Zeppelin University, she worked as a trainee and assistant at the EU Permanent Mission to the United Nations in Geneva. Previously, she studied international law, human rights and political science in Venice, Luxembourg and Konstanz.

In her research, Marieluna Frank investigates the functions of non-state actors in the governance system of outer space, in particular Earth orbits. Using network analytical approaches, she aims not only to identify the different roles of actors, but also to capture their influence on governance structures. Her research is embedded in Nobel Laureate Elinor Ostrom's literature on the governance of common-pool resources.

Marieluna Frank is a member of the SichTRaum network and has had the opportunity to pursue her research in the frame of a research stay at the Institute of Space Policy and Law in London, UK, where she successfully continued her data collection through participation in events and congresses of the space community.
Research interest
Global Governance, Space Governace and Policy, Non-State Actors, Global Commons, Sustainability
No publication for this member