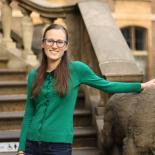 Dr. Claire Peacock is a postodoctoral researcher at the ESEI and will be a SSHRC Postdoctoral Fellow beginning in July 2019. Claire completed her DPhil (PhD) in International Relations at the University of Oxford in August 2018. Claire's research focuses on understanding the rationales behind and the design and outcomes associated with international cooperation, ranging from regulatory cooperation to treaty making to summitry politics. Her dissertation research explored why states include labour and human rights regulation in international trade agreements. Claire's postdoctoral research looks at the design and consequences of withdrawal provisions in international environmental agreements. She is also working on a project that maps and assesses the structure of offshore networks.
Claire is also interested in the application of data science methods to international relations data and works in R and Python. She enjoys teaching IR students the fundamentals of working with data and about evidence-based decisionmaking and research.
Research interest
International political economy, institutional design, international regulation, environmental cooperation, human rights, labour rights, international trade, statistical network analysis, quantitative methods, data wrangling.
Peer-reviewed articles
Peacock C., K. Milewicz, and D. Snidal, "Boilerplate in International Trade Agreements", International Studies Quarterly, Forthcoming.

New international agreements often recycle language from previous agreements, using boilerplate solutions alongside customized provisions. The presence of boilerplate in international agreements has important implications for understanding how international rules are made. The determinants behind boilerplate in interna- tional agreements have not previously been systematically evaluated. Using original data from a sample of 348 preferential trade agreements (PTAs) adopted between 1989 and 2009, we combine novel text analysis measures with Latent Order Logistic Graph (LOLOG) network techniques to assess the determinants behind boilerplate in labor and environmental provisions commonly found in PTAs. Our results indicate that whereas boilerplate can be used for both efficiency and distributive purposes, international boilerplate is used primarily for efficiency gains while power-distribution considerations are not systematically important.

Morin, JF, H Dobson, C. Peacock, M. Prys-Hansen, A. Anne, L. Belanger, P. Dietsch, J. Fabian, J. Kirton, R. Marchetti, S. Romano, M. Schreurs, A. Silve et E. Vallet (2019), "How Informality Can Address Emerging Issues: Making the Most of the G7", Global Policy, vol. 10(2): 267-273.

The Group of Seven (G7) leaders met for their 44th annual summit in Charlevoix, Canada in June 2018. Although the G7 has outlived many institutions of global governance, perennial doubts are cast upon it, particularly regarding its legitimacy and achievements. The Think 7/Idées 7 is a group of 35 scholars from all over the world who met from 21 to 23 May, 2018 at Laval University, Quebec City to identify key themes to be addressed at the Charlevoix Summit, communicating its findings to the G7 leaders' personal representatives. This Policy Insights paper builds on these discussions and looks ahead to the 2019 Biarritz Summit by making recommendations of how the G7 can play a leadership role. We argue that it should address new, unprecedented and highly disruptive issues that characterise our complex world, rather than well-understood international problems that fit into existing categories. We argue that the G7 can do this by playing to its strengths – informality and like-mindedness in particular – in addressing emerging and transversal issues such as Artificial Intelligence (AI) and cryptocurrencies.

Voir la publication originale Voir la publication originale en format pdf