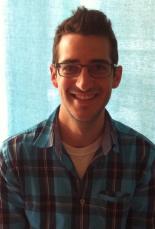 Nicolas Michaud est candidat à la maîtrise en études internationales à l'Institut québécois des hautes études internationales de l'Université Laval. Après avoir terminé des études en droit à l'Université d'Ottawa, il est devenu membre du Barreau du Québec en 2012. Au cours des dernières années, il a oeuvré en tant qu'avocat au sein de la fonction publique québécoise. Plus récemment, il a obtenu une bourse du Conseil de recherche en sciences humaines pour l'année 2015-2016.
Intérêts de recherche
Droits humains; Droit international du travail; Droit international public; Relations internationales
Projet de recherche en cours
Dans le cadre de sa maîtrise, le candidat effectue des recherches concernant l'utilisation des mécanismes de plainte interétatique en matière de droits humains. Plus précisément, l'étude vise à comprendre les raisons qui expliquent la sous-utilisation de ces procédures.
Policy reports
Morin, J-F, N. Michaud and C. Bialais, 2016, "Trade Negotiations and Climate Governance: The EU as a pioneer, but not (yet) a leader", IDDRI Issue Brief, no 10/16, 4 p.

The European Union is a pioneer in terms of integrating climate issues into trade negotiations. It is the actor that includes the greatest number and range of provisions related climate change in its trade agreements.However, the EU model does not seem to be inspiring other actors in the trade system. Despite the recent proliferation of trade agreements and the exponential increase in provisions relating to the environment in these agreements, few countries are taking inspiration from EU standards.In order to foster an integrated approach to climate change, it would be useful to reproduce on a broader scale the small number of existing climate provisions, and to innovate based on progress made for other environmental issues.